Laser Engraving - a laser beam removes metal leaving a naturally darkened recessed area varying in color from very dark tan to nearly black, depending on the metal species and other factors.
Laser etching - direct laser process creates permanent image on metal or glass.
  PolyDome - virtually indestructible clear urethane coating applied over a digitally produced full color image of your supplied art. Standard background colors are brushed or polished gold or silver and white.
  Pad Printing (imprints) - imprints using ink can be made in almost any color. Please provide a PMS number for reference. An exact match cannot be guaranteed.








  Hot Stamping - dry imprinting process in which a design or type is set on a relief die that is subsequently depressed by heat and pressure attaching a metallic foil onto the printing surface.







  Debossing (blind hot stamping) - depression of an image into leather so the image sits below the surface.
  Die Cast Medallions - we use true die casting, not spin casting. Molten metal is poured into the die allowing us to produce fine detail rivaling die striking. Medallions are available in polished brass or silver and antique brass or silver.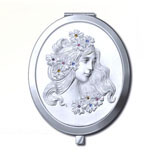 Plates - plates can be added to many products. Finishes can be brass, brushed brass, silver, brushed silver or black on metal or plastic base material.